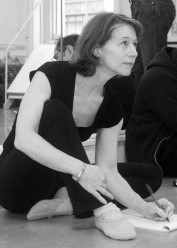 REBECCA KELLY is described as "at ease in classical as well as contemporary styles." She "choreographs with boldness and imagination...high emotion through pure movement" says The New York Times. "A miniature ballet company - never less than highly charged!" acclaims BACKSTAGE. Based in SoHo in New York City and the Adirondack Mountains, the ensemble has performed in major NYC theaters and toured and taught throughout the US and Europe. Rebecca Kelly Ballet features contemporary classical dancers and ballets performed on and off pointe.

Rebecca Kelly creates abstract and narrative ballets which fuse classical dance with modern forms resulting in an arresting lyrical earthy quality. Themes range from topical issues about the environment and astute social commentary, to poetical works involving the sheer energy and beauty of the highly skilled dancer and the complex use of the body. Classical line and touching performance, coupled with intense musicality and energy distinguish each of Kelly's works.

RKB has appeared on television on the CBS Early Show and USIA ArtsAmerica, and frequently on PBS MountainLakeTV. Kelly has been interviewed on "All Things Considered" for National Public Radio, on North Country Public Radio, American Today, USIA. . RKB has been profiled in Pointe Magazine, American Arts, Continental and Working Woman magazines. Recognized among the art pioneers of the historic SoHo district in New York City, Rebecca Kelly and Craig Brashear were featured at the SoHo 2017 Salon, a series to raise awareness among the attendees about the background of long-time artists of Soho, and its influence on thought processes, methods to achieve goals, and development of works. In 2018, Rebecca was profiled in the SoHo Memory Project, and the Broadway SoHo Initiative.

REBECCA KELLY, BIOGRAPHY, Free Lance Choreographer, and Artistic Director
Born in Princeton, NJ, the daughter of a career diplomat, Rebecca Kelly was raised in London, Khartoum, Sudan, Brussels, and Wash, DC. She trained at the Washington School of Ballet. She graduated cum laude from Bryn Mawr College with a B. A. in History of Oriental Religion.

In 1979 she founded Rebecca Kelly Dance, with her husband and modern dance partner Craig Brashear. The following year she was selected as one of three Young American Choreographers to represent the U.S. at the Chateauvallon Festival in France. She has since created over 85 contemporary and classical works for her own and other companies, including Ballet Pacifica, The Carlisle Project, Boston Ballet II. She has staged Nutcracker variations, and created repertory for the North Country Ballet Ensemble of Plattsburgh. Kelly was commissioned to create the ballets "L'Histoire du Soldat" and her Carmen-based," Jose's Dream", for live performance with the Orchestra of St. Luke's in New York City.
RKB began its unique association with the Adirondack region in 1986. Invited as Artists-in-Residence to the Lake Placid Center for the Arts in upstate NY, the Company has been in residence every summer since. RKB pioneered and developed extensive dance programs for rural youth in Clinton, Franklin, Essex, and St. Lawrence counties. Its ONSTAGE performance camp is well-known throughout the tri-county region, and attracts students locally, as well as from Canada, Florida, Virginia, and Long Island.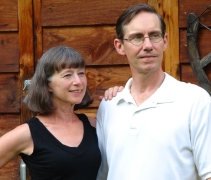 Craig Brashear and Rebecca Kelly founded Kids Co-Motion, in 1992, an original choreographic approach to orient and strengthen strong language and movement skills in the young child. The interactive program brings new families together in dance and music. Flourishing in urban and rural locations, KCM is the creative movement program of the Lamm Institute Pre-School in Brooklyn, for children with developmental delays. It has also been taken into the curriculum of several Pre-Schools serving SoHo, the West Village, the Upper West Side, and in Westchester.

Kelly's manual, Dancing with Delight, a teacher and parenting guide to positive learning experiences and dance for the young child, can be ordered through the Company. Kelly's essays and insights on dance, audition process, rehearsing, understudying and choreography have been published in Dance Pages, a national quarterly serving the dance community, and in Take it to The Limit, a book about athletes and endurance. She is the recipient of the Young Woman of Achievement Award from the National Council of Women, and Good Housekeeping Magazine recognized her as one of 100 Young Women of Promise on the occasion of its 100th Anniversary. Kelly sits on the Advisory Board of Notes in Motion, a NYC-based modern company..