HOME.. ... ... SUPPORT... PRESS..... APPLEBY FDN .. EMAIL US 10-3-23

WINDOWS GALLERY above MAIN is where art and education and the village community engage with innovative projects; a flexible, entertaining, gathering place, while opening a window to the best talent and culture of the region - and beyond. Located right between the AusableTheater and the Bridge over the west branch of the Ausable River.
WATCH the VIDEOS - "BEAUTIFUL ADIRONDACK TOWN, II"

EXHIBITS past - present
updated 10-3-23

EXHIBIT GUIDELINES & APPLICATION
An important MESSAGE TO VISUAL ARTISTS


MURAL PROJECT: A Sense of Place
Artist Georgeanne Gaffney (Saranac Lake) completed her mural painting of a scene of the West Branch of the Ausable River at the gorge near Au Sable Forks. Unveiling was 9/30/23.

The mural is located on the wall between Tahawus Center, 14234 Rt 9N, and its neighbor the Ausable Theater, in Au Sable Forks. To discover it, enter through the municipal parking lot and proceed to the rear of the building where you will see the Tahawus garden and "the long grotto." ENJOY the scene - a bridge over the river, under Main Street!
And, thanks to Puffin Fdn, Stewart's Shops, Charles R. Wood Fdn, Essex County Arts Council, and Statewide Community Regrants Program for support!


Highlight on CVACC group exhibition, "Challenging the Topic of Nature," by Champlain Valley Arts and Crafts Club:
Paintings by Bryan Briscoe (Saranac), Brendan Bush (Burlington), Photographs by Kt Falzetta (Plattsburgh)

August 5-September 5, 2023, Open to Public for walk-ins:
Friday 10-1pm and Saturdays, 11-3pm
Also open by Appointment: Bryan Briscoe
518-572-2337 be-art@wcclass.com
THROUGH SEVEN LENSES, April 22 – June 18, 2023
"respecting the ordinary, imagining the intangible"
Over 70 originals and prints on display
Open to Public on Saturdays, 1-2:30pm, and by Appt.
Tipping boats, rusty trains, winding meadow streams, water rushing through rock formations; landscapes both familiar as well as hidden gems. Larry Vanderburgh's interplay with matter and energy, at times bold, sometimes delicate, always vibrant, and his use and juxtaposition of colors combine to express an eager, wide-eyed reflection and response to the world around him.

"JOURNEY" Sept 10 - Oct 29, 2022
Paintings by Heidi Gero and fiber arts by Carrie Plumadore, Silver Lake Road artists, driven by curiosity, experimentation, and discovery. The exhibit provides a window into their artistic journeys.

In Adirondack artist Heidi Gero's paintings local landmarks appear like familiar friends. In her renderings of people, places, and animals, viewers may recognize and share a meditative journey through time.

"The freedom to interpret the world around you as you see it…"Carrie Plumadore works exclusively with found, repurposed items, giving new life.

"JOURNEY" Sept 10 - Oct 29, 2022

"A painting is the song of one's soul through the end of the paintbrush.
It is a journey through time, of thought processes, of frustration, but also of inspirations and emotions."


"WILD AT HEART
May 14-July 30, 2022

Rachel Finn, always an explorer, her artworks are a reflection of her passion, curiosity, and exuberance for the natural world. Her digital video of images provides a provocative and whimsical perspective through her unique decal lens.

Alison Haas, the collage artist behind Wildly Pressed, designs with botanicals to create works with natural materials including pressed plants, ferns and flowers. The original result are fanciful, witty works of art.

Sue Burdick Young crafts pottery pieces that are beautiful and functional, bringing distinctive art into everyday lives. From a "birch bark" fountain vodka server to the sculpted "Daphne" figure crowned by a tree, Sue's imagination knows no boundaries. CLICK for PBS Mountain Lake TV - Spotlight

PORTRAITS AND PHOTOGRAPHY
by ROB FOUNTAIN, 2021

ROB FOUNTAIN, "Catching the Light" 2021
Portraits and Photography, 9/26, 1-2:30pm
An exhibition of images that stir the imagination, tell a story, transport you to a special place, capture a moment,
and leave an indelible mark.
Rob Fountain is a photojournalist and portrait painter who lives and works in Au Sable Forks. The exhibit "Catching the Light" will have 30 pieces on display. This includes 18 photographs revealing various landscape photography of the Au Sable Forks area and beyond and 6 drawing portraits and 6 portraits in oils and charcoal and linoleum prints. As an award-winning photojournalist, Rob is well known throughout the area from his long-time affiliation with the Lake Placid News, Adirondack Daily Enterprise, and Press-Republican newspapers. Fountain has won 22 state and national awards for photography and video including five First Place awards for Best Picture Story from the New York Press Association, and four Associated Press Awards for portraits.


"WARMTH AND BEAUTY" 2021
Five Adirondack Quilters:
Dawn Klotzko, Bethany Krawiec, Amy Pawlowski, Barbara Schaffer, Luvie Tuller

From the towns of Jay, Upper Jay, Keeseville, Wilmington, and Essex, five women share their works and unique stories of how quilting became a part of their lives. Fourteen quilts and works in fiber arts will be on display in the Tahawus Windows Gallery in a radiant exhibit.

The exhibit begins March 20, 2021. At first the artistic quilts will only be viewable online but in-person viewings will be available on six weekends in April and May, by appointment only, due to COVID-19 restrictions. https://tinyurl.com/7fccnss)

(6/18/20, LCW, Aja Landolfi) "When a new business opens it doors, owners can hope they will remain open for years to come....A lot can happen in a decade, and taking a trip down memory lane can be a fun way to see how this business has grown."

(6/14/20, Tim Rowland, The Sun) "This year because of the coronavirus, the Tahawus Cultural Center in Au Sable Forks has been temporarily unable to open its doors to the public, so Rebecca Kelly and Craig Brashear have created a 10-year online retrospective of art, hisgtory and culture that have been featured through the years since its first Main Street Gallery presentation in 2011."

(6-23-20, Adirondack Almanack) "The First 10-Years Retrospective opens online June 26, and gives the community a means of looking back --a happy reminder of gatherings in celebration of creative achievement."

ROME UNDAMMED
July 25-September 1, 2019

Photographs and artifacts
by Stephen Longmire and Elsa Voelcker.

An exhibition documenting the Rome Dam, built in 1893-94, rebuilt in 1936, and which provided water and power to the J+J Rogers Co. pulp mill, until it closed in 1971. After extreme flooding during Tropical Storm Irene in 2011, the dam was scheduled for removal in 2018.

OPEN weekends,12-4pm,
& by appointment: 518-637-6859.


TAHAWUS WINDOWS GALLERY
announces the exhibit of INHABITED PLACES
over 3 weekends, April 6-28
Urban photography by Brian French
Rural photography by Dan Hausner

Photographers Brian French and Dan Hausner have been friends for nearly two decades. They reside in very different parts of New York State. Brian in Schenectady; Dan in Saranac Lake, in the Adirondack Mountains. Each artist's work is a reflection of the place where they reside. Together these images show two very different views of the places where people live.

Celebrate an unusual day of lively events:
Saturday, April 27
Kidding Day at Asgaard Farm 10-2pm
Hollywood Movie, The Avengers at 2pm and 7pm,
Gallery Reception 12-5 "Inhabited Places"
A sneak peak at the Classical Variations Workshop
at Cloudsplitter Dance Studio, 3-5pm




A weekend of art.
Follow the trail! of the Ausable River Valley Studio Tour,
July 14 and 15, 2018,

Tahawus Galleries presents THREE artists.
Come see the work of our regional artists:


Kyle Gero from Fern Lake,
portraits and landscapes in realist/ impressionist style

Heidi Gero from Au Sable Forks
deeply felt viewpoints of the Adirondacks captured
in oils and mixed media

Gilles Lamarche from Au Sable Forks,
works in oils, acrylics, and watercolors, ranging from
traditional landscapes to modern abstracts

WHY IS ART IMPORTANT?





ROCKWELL KENT illustrations for
THE COMPLETE WORKS OF WILLIAM SHAKESPEARE. A unique view of the 40-piece illustration set, rarely seen in its entirety.

The Windows Gallery of Tahawus Center opens June 23rd with a celebration of the 134th birthday of artist Rockwell Kent and 400th aniversary of the death of William Shakspeare. Collector Ralf Clyde Nemec offers a rare 10-day exhibit and sale, June 23-July 2. 10% of sales benefit the Tahawus Fund.
There will be birthday cake to celebrate!

GALLERY HOURS for this exhibit are:
12-5pm daily, and by appointment.
Opening Reception: Friday, June 24, 5-8pm
Closing Reception: Saturday, July 2, 5-8pm
Press Release About Rockwell Kent

Tahawus first ADIRONDACK PLEIN AIR WORKSHOP,
5 days instruction, plus exhibit. All levels are welcome.
Field work in drawing, pastels, acrylics, with Brooklyn artist,
ENID BRAUN, Aug 8-12, 2016.

This will be followed by August exhibit of resulting works at Tahawus Center Windows Gallery, Au Sable Forks, NY.
Where to Stay

Find out more: TahawusCenter@gmail.com.
Visit: www.EnidBraun.com
Print out a Plein Air Poster (left)
Enid Braun, "Gihon River"

(Click on image for postcard and see page 2).


EVERGLADES IN THE ADIRONDACKS and THE ARTFUL BUTTERFLY, August 7-29, 2015
28 pieces by 28 artists whose works were created as Artists in Residence in Everglades (AIRIE), bringing attention through art, to our magnificent and environmentally endangered national parks. The exhibit also features Marxer's hanging scrolls and paintings, - delicate and delightful - stresses the importance of butterflies as indicators of ecologicaj health as well as aesthetics. Additional In-The-Gallery events Include:
Panel with artists discussing The Power of Place, Art Residency programs, Aug 9, 2-4:30 AND,
Poetry reading by Roger Mitchell (Jay),Aug 9, 2pm, FREE
MUSIC in the Gallery - Alex and Eydon, acoustic guitar and vocals, 7pm
Butterfliy Talk, Sue Grimm Hanley, of Paul Smiths VIC Native Species Butterfly House, Aug 15, 6pm



3 POP UP EXHIBITS
Porcelain, Terracotta, Prayer Beads
Thurs, July 10, 17, 31, 2014

curated by Karla Oehler. The new pop-up series at Tahawus Center bridges the gap between museum and arts community, with a "hands on" event that comes and goes very quickly, and is characterized by a really surprising quality.

Pop Up Press Republican:
Art out of the Woods and on Main St


SYMPOSIUM, A Few Degrees. A Profound Change 8/21 - John Johanson is a designer and natural resource manager focused on sustainable architecture, historic rehabilitation, and stewardship of forest resources, particularly in the Adirondack Park.


Double Visions (Community Arts Exhibit)

Poet, illustrator, and photographer Nadine McLaughlin
resides in Jay, NY. Her photo art has been exhibited
extensively in the High Peaks area of the Adirondacks.
She is the author of several books of poetry, including
Sunrise, Sunset: Poetry ... just for the joy of it.
Lake Champlain Weekly Press for Community Arts




Japanese Scrolls (Community Arts Exhibit)
Hans Laverge (Lake Placid, New York City) shares his collection of avian and floral representations in computer enhanced simulation of flat painted, high detailed, large scale images, mounted with the traditional cylinder wooden rollers and fastening ribbons and showcases this new form of traditional Japanese art. Spanning a great variety of subject matter, from political commentary to epic romances to religious tales, Japanese illustrated hands scrolls bring stories to life in a vivid, engaging manner. Community Arts Press Release


MOHAWK OF THE ADIRONDACKS- Sept 21- Oct 12
curated by Margaret Horn. PRESS RELEASE,
REVIEW! by Kathleen Recchia
ARTICLE by Robin Caudell, Press Republican

"THROUGH THE YEARS" 9/6 -10/6, 2013

Photographs of works spanning each decade
of the career of JERI WRIGHT (Wilmington)

Read the Lake Champlain Weekly article
"Doing the Gallery Hop"

Here Come the Trains December 15-January 5
G-Scale Model Trains - Serious Fun for the Young
at Heart!

Trains are Coming Flyer

The TLC Windows Galleries are transformed by
the wonderland of G-Model trains.
Collectors Carl Koke (Peru) and Lou Scavo (Jay)

PRESS RELEASE
Press Article Boys and their Toys



Mark Hobson - ART convey / transport / reflect
April -July, Release
The Forks: there's no place like home"
Jan- March, 2011; Release





ROCKWELL KENT
130th Birthday Celbration and Sale
June 21-23, 2012
About Rockwell Kent


Todd Bissonette - Photographs
"Through the Looking Glass, Captured Moments"
Rebecca Kelly Ballet in performance
Oct-Dec 2011, Press Release

Imagining Makebelieve:
an Exhibition Honoring Arto Monaco-
July-Oct 2011
About the Exhibit, Lake Placid News article

MAILING ADDRESS
Tahawus, PO Box 984
Au Sable Forks, NY 12912
Tahawus Center is a program of
APPLEBY FOUNDATION, Inc.

"an exciting new gem of a space"
Athena Roth, Lake Placid Visitors' Bureau
Press Article
Read the story by Naj Wicoff
Lake Placid News January 2011
Exhibit program and Application
SHORT TERM RENTALS
Open Space for: Events, Rehearsals,
Classes, Exhibits, Fundraising events,
Conferences, Workshops, Gatherings.


Ask for current rates, policies, guidelines:
STUDIO RENTAL SPACE DESCRIPTION
and contact us.
The Tahawus vision to reclaim the 110-year
old building as a center for a vibrant expression
of activity led by the arts, began in 2009.
The Center is a not-for-profit entity (Appleby Foundation) with a small staff assisted
by voluteers. To carry out so large a vision -
plenty of help is always welcome. We hope
you'll support Tahawus by becoming
a member or with a contribution.
Just click on Donate Now.
And THANK YOU!



WHERE TO STAY

Jay, NY. is 12-min from Tahawus;
32-min from Lake Placid, Plattsburgh
and Lake Champlain Ferries.

1900 House, Au Sable Forks
John Dobridge: Authentic charm on
N. Main St, 1 minute from
the Tahawus Center

The Windows Gallery is located on the 2nd floor.
Use double doors located at:
14234 Rt 9N (on Main St. at the bridge),
Au Sable Forks, New York, 12912
CALL FOR PROPOSALS
Read the GUIDELINES.
TLC is a rental gallery, but on occasion
we are able to co-produce a creative endeavor
.Many thanks to the Puffin Foundation for their support of Tahawus and Native Content, and the Mural Project.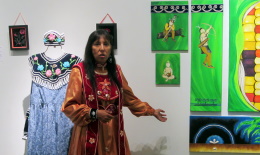 GALLERY GUIDELINES / TERMS
VISUAL ARTS: Solo Exhibits, Group Shows

To rent or exhibit in the Windows Gallery,
FIRST review GUIDELINES, THEN CONTACT
Tahawus@verizon.net 646-734-7151
OTHER OPPORTUNITIES
FOR ARTISTS:
ASK ABOUT THE
TAHAWUS TROMPE L'OEIL MURAL PROJECT.
Click to enter GALLERY: A Touch of Whimsy:
Drawings by Johannes A. Gaertner
FOR SALE

The Drawings of Johannes A. Gaertner
Click for Press Release
For information: Susgaert@aol.com
or TahawusCenter@gmail.com